Caving – Jenolan Caves, Wombeyan Caves, Abercrombie Caves
Caves are mysterious underground wonderlands that captivate and excite all who visit their cool depths. Oberon is the gateway to a number of magnificent, world class caves including Jenolan Caves, Wombeyan Caves and Abercrombie Caves.
Located in the Blue Mountains World Heritage Area, and open daily, Jenolan is Australia's largest and most spectacular cave system.  They are the world's oldest caves. Jenolan's many caves feature pure rivers and stunning formations. Explore on fascinating guided tours. Try challenging Adventure Caving.  Stroll along pristine bush trails and glimpse native wildlife.  Relax in restaurant or café.  A range of accommodation is available
Wombeyan Karst Conservation Reserve, 112 kms south of Oberon, boasts some of NSW's most impressive show caves including Figtree Cave, widely regarded as one of the state's best self-guided cave experiences. Guided tours also take visitors through other caves. The reserve offers some lovely walks, including the Waterfall Track, which features scenic waterfall views and Mares Forest Creek track. Camping is available.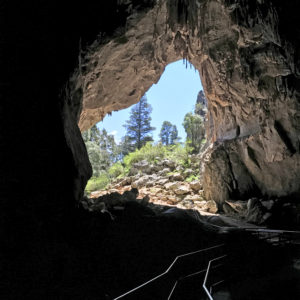 Abercrombie Caves are spectacular limestone caves with a fascinating social history. They consist of a large arch, claimed to be the largest natural limestone tunnel in the Southern Hemisphere and a number of smaller passages leading from it. The Bushrangers Cave was once the hideout for the Ribbon Gang, led by the ill-fated Ralph Entwistle, who began life on the run after being caught swimming nude in the Macquarie River at Bathurst.
Abercrombie Karst Reserve
Abercrombie Karst Conservation Reserve, famous for its incredible limestone caves, offers great bushwalking, waterfalls and picturesque camping for the whole family. An Abercrombie Caves tour is an unforgettable experience.
More than a century ago, goldminers built a platform for dances in one of the main galleries. Today the historic dance floor is used as a stage for underground concerts, weddings and Christmas carols. The acoustics are brilliant!
The conservation reserve offers a picturesque camping area, with the luxury of a hot shower! The caves themselves are surrounded by native bush on a 1400 hectare nature reserve. There are swimming holes in the creek, as well as a public fossicking area within the camping area. At the southern end of the Abercrombie Cave Nature Reserve are the Grove Creek Falls.
The reserve is open daily during school holidays and from Thursday to Monday outside school holidays. It is about an hour and a half's drive south west of Oberon.
Visit www.nationalparks.nsw.gov.au or contact Oberon Visitor Information Centre for more information.