Museums provide a fascinating window to the past, exploring what influences shaped the town and its people, while also exhibiting the challenges of early days in Australia.
Some of the museums in Oberon are Oberon Military Museum, Rockley Mill and Stables Museum and Oberon and District Museum
The Oberon Military Museum houses an array of weapons from World War 1 to the present. Also on display are medals and various items used by our Australian Armed Forces. Various other items used by the Australian Armed Forces are also on display.
Outside the museum stands The Light Horse, created by local talented artist and sculptor, Harrie Fasher.
Located on the corner of Oberon and Dudley Sts, the museum is open Wednesdays, and Fridays from noon until 4pm and Saturdays and Public Holidays from 10am to 4pm. Admission is free.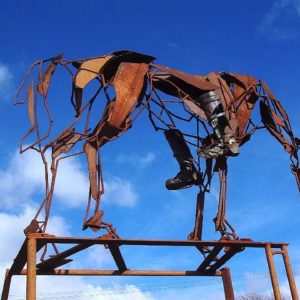 Rockley Mill and Stables Museum
The Rockley Mill and Stables Museum, Budden St, Rockley is the focal point of the streetscape in Rockley village. Its deep red brick façade conveys a solid persistence that has withstood the rigours of time. The building houses items of historical interest which present a unique insight into nineteenth and early twentieth century rural life.
This fascinating village is listed in its entirety by the National Trust of NSW. The majority of its existing major buildings, which are numerous, were constructed between 1860 and 1890.