Medical Services in Oberon
Oberon is well catered for in the area of health and allied services.
Oberon Multi-Purpose Service (Oberon Hospital)
This multipurpose facility integrates numerous health services for the community. Other services are provided as required  or on a visiting basis, they include, Women's Health Nurse, Drug and Alcohol Service, Dietitian, Sub-acute Physiotherapist, Palliative Care Nurse, Continence/Stomal Therapy Nurse, Medical Health Team, Diabetes Educator, Paediatric Speech Pathologist, Aged Care Assessment Team.
The Oberon MPS is located at 67-73 North Street, Oberon, NSW 2787   Ph:  02-6336-7200 or 000 in an emergency.
Acute patients (8 beds)
24 hr Emergency Services (3 beds)
High Care residential aged- care (10 beds)
Child and Family Health Nurse
Primary and Community Health Nursing Services
Robey Independent Living Centre (Mon ,Thurs)
Nurse Led Foot Clinic
Pathology
Radiology (Mon, Wed, Frid.)
Rehabilitation Exercise group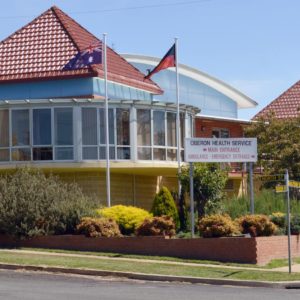 The Oberon MPS is located at 148 Oberon St, Oberon, New South Wales 2787, Ph: 02-6336-1505.
Centralised GP consulting rooms and a range of diagnostic and referral services including:-
Skin checks
Excisions and minor procedures (under local anaesthetic)
Wound management
Immunisations
Travel medicine and vaccinations including Yellow Fever
Q Fever clinics
Daily pathology collection (8-11am)
Antenatal care
ECGs
Work Cover, pre-employment and insurance medicals
GP management plans
Team care Arrangements
Drug screening
Audiometry
Spirometry
Health assessments
Medication management
Women's and men's health
Indigenous health
Regular visits to Oberon Village and Oberon Hospital
Chronic disease and complex care management
Diabetes care plans
Connect Hearing
Diabetes Educator
Dietitian
Health Direct

Health Direct is a 24 hour health advice line.
1800-022-222

Ambulance Service of NSW

Located in Springfield Street, Oberon
In emergency Ph triple zero (000), or for non-emergencies 131 233.

Oberon Dental Services

Bathurst Dental Care currently visits Oberon every second Friday. The surgery is at 72 Dart St, next to the library.
02-6336-0902.

Physiotherapy

Christina Tribaldi-Roberts, 89B Oberon St, Oberon. Mon, Wed, Fri.
0407-935-615

PT Just 4U

Guy Nicholl, Hooper Community Centre
0400-837-186