Spartan Kids Race Oberon
Spartan Kids Races are all about getting muddy and having fun! Our mission is to inspire kids to get out, be active, and enjoy themselves. That's why our Spartan Kids' races encourage young Spartans to conquer their goals while having a whole heap of muddy fun in a non-competitive, safe, and supportive environment. Kids will run, balance, walk, crawl and climb their way through a fun-filled obstacle course that helps them understand what it's like to be a Spartan! The races have been specifically designed to be suitable for kids of all ages and fitness levels.
WHAT IS A KIDS RACE?
The course will have junior versions of some of the adult obstacles. The Spartan Kids race is about 2-4kms depending on the course and your age. Spartan Juniors who are 4-9 years old will complete 1 lap, approximately 2km's.  Parents are encouraged to accompany their little ones on the course, to give them a hand when the obstacles get a little tricky.
The Big Kids; aged 10-14 years old will complete 2 laps of the course, which will be approximately 4km's.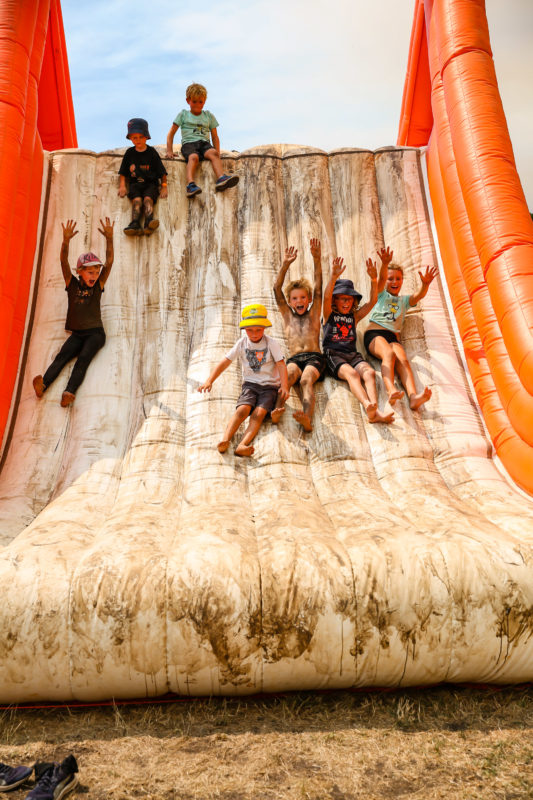 If you want to get the whole family involved, or a bunch of friends want to register together, you also have the option to create a kids team! If you'd like to, adults can choose to follow along the course and assist their child or spectate completely free of charge!
REGISTRATIONS CLOSE 11:59PM 3rd MARCH 2020
Introducing Spartan Kids Competitive Wave
Spartan is pleased to introduce the Competitive Wave in 2020, starting at the Latrobe Valley event in April.
Kids aged 10-14 years old can enter the competitive wave. There is only one competitive wave per Spartan Kids event and will always be the first wave of the first day. There will be two categories for the competitive wave: 10 to 11 yrs and 12 to 14 yrs.
Medals for 1st, 2nd and 3rd for both boys and girls are up for grabs and a merchandise voucher.. Merchandise Vouchers: 1st – $30, 2nd – $20 & 3rd – $10. Presentations of medals will take place on the official podium, just like the adults.
Competitive Wave kids will earn points for the World Championships. Points table will be updated for World Champs qualification.
Officials will be on site to ensure racers complete the course. Burpees: do the kids have to do them is they can't pass an obstacle? Yes, 15 Burpees. Do they get a second chance on the obstacle? No, in Kids Competitive Waves, if they fail/ miss the obstacle its 15 Burpees on any Single Attempt or Multiple Attempt Obstacle. They can only get a 2nd go at a Multiple Attempt Obstacle until they get it or do 15 Burpees to move on.
Please see Kids Rule Book.
Click here for information about the Kids Trifecta.
LOCATION
463 Abercrombie Road, Oberon, NSW 2787
WHAT DO THEY GET?
Badass 2020 Spartan Kids Medal
Spartan Kids T-shirt
Spartan Kids headband
RACE SCHEDULE & WHEN TO ARRIVE
Waves run every half hour from 8am until 3pm on Sunday. Please ensure you get to the event an hour before your start time to allow time for registration.
WHAT TO BRING
Your kids racer number (you'll receive this via email two days before the race)
Confirmation Email (sent out when you registered)
ID
Cash (for food and merchandise in the festival area)
Water
Spare change of clothes
Towel
WHAT NOT TO BRING
Your pets
Negative Attitude
tourism@oberon.nsw.gov.au