Oberon Outdoor Festival 2023
A month-long Festival with a variety of fun activities and events with an outdoor theme. This will include 'family-oriented' activities, Open Gardens, Heritage Village Tours, Sip n Splash, 4WD Tag-along Tour, Fishing Lake Oberon Redfin Roundup Weekend, Teddy Bear's Picnic and much more.
OVERVIEW OF MAIN EVENTS
 4WD Tag-along Tour Kanangra and Yerranderie 28th October
This 2-day Offroad Adventure features rugged 4WD touring, dramatic scenery, intriguing colonial history & sacred aboriginal sites, quality campfire meals – with 1 night camping out under the stars at historic Yerranderie Town. 
www.simmosoffroadtours.com
Sip n Splash Pinot & Picasso 11th November
A fun relaxing afternoon of wine tasting, food and painting at a local Vineyard https://events.humanitix.com/sip-and-splash
Black Springs Heritage Tour 18th November
Enjoy a guided tour of Black Springs region and learn about its rich pioneer history, includes morning tea and lunch https://events.humanitix.com/black-springs-heritage-tour
Teddy Bear's Picnic 26th November
10am-2pm Family Fun with old school Games, face painting, petting zoo, storytime and craft at Oberon Common https://www.visitoberon.com/events/oberon-outdoor-festival-teddy-bears-picnic/
Redfin Round-up 2nd – 3rd December
Oberon Redfin Roundup welcomes anglers of all ages and skill levels to Lake Oberon. Expect an array of prizes for the largest catch, biggest bag, age categories, and lucky door prizes. Demonstrations from participating sponsors, BBQ and refreshments available all weekend. Camping is Free. https://events.humanitix.com/oberon-veterinary-hospital-redfin-roundup-2023
Other Events  
Oberon Markets November 5th
Oberon Museums Weekends
Oberon Garden Club Open Gardens November 4th & 5th 
https://events.humanitix.com/oberon-and-district-garden-club-open-gardens-2023
O'Connell Art Show November 4th & 5th
Mayfield Fair & Plant Sale November 4th & 5th
Rockley Gardens & Art November 11th – 12th
Oberon annual Golf Day November 24th
Oberon Chamber Music FREE Community Event @ Oberon Common November 24th 
https://oberonchambermusicfestival.com.au/programme/
 Events @ The Malachi Oberon Chamber Music November 24th 25th  26th
Skoberon Art Competition November 25th
Tarana Markets November 26th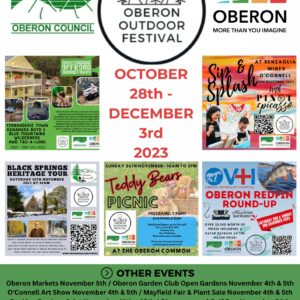 tourism@oberon.nsw.gov.au