Oberon Chamber Music Festival
We are very excited to announce the inaugural Oberon Chamber Music Festival which will be taking place in November 2023.
The weekend will include free Schools Concerts, a free Twilight Concert at the Oberon Common, and four ticketed concerts at the Malachi on Saturday and Sunday featuring the very best of Australia's classical chamber musicians. FREE Community Concert Fri 24 Nov 5.30pm – 6.30pm at The Oberon Common
All are welcome to a Free outdoor concert on the lawn surrounding the gazebo at The Oberon Common. Bring your own picnic, rugs and cushions and settle down to some musical storytelling:
Peter and the Wolf (Sergei Prokofiev)
The work is a symphonic fairy tale written in 1936, where the narrator tells a children's story while the orchestra illustrates it by using different instruments to play a theme that represents each character in the story.
Musicians:
Jane Sheldon (soprano) TBC
Peter Jenkin (clarinet)
Emma Scholl (flute)
Emily Granger (harp)
Anicka Skalova (violin)
Emma Jardine (violin)
Tobias Breider (viola)
Rachel Siu (cello)
Bernadette Harvey (piano)
Kees Boersma (double bass)
Ravel Harvey (narrator)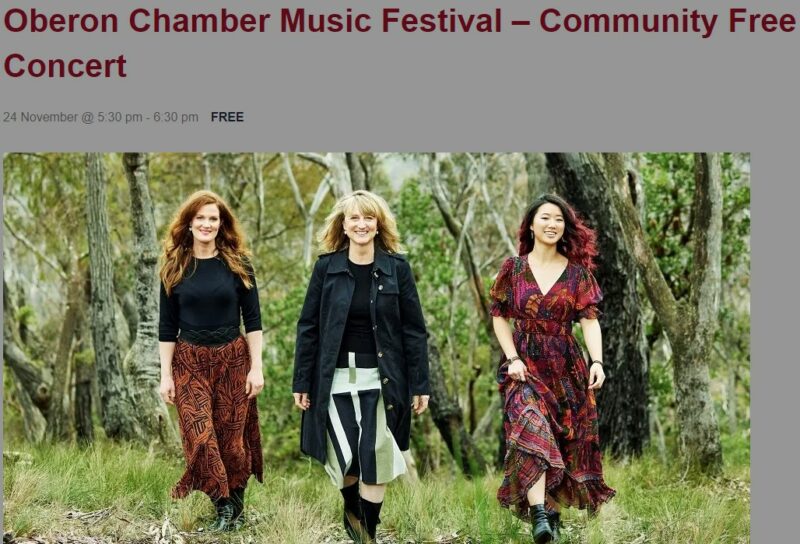 oberonliveprojects@gmail.com