Oberon Chamber Music Festival 2023
FRI 24 NOV – SUN 26 NOV 2023
We are very excited to announce the inaugural Oberon Chamber Music Festival which will be taking place from 24th to 26th November 2023. The Festival weekend will feature world-class chamber music performances in the beautiful rural setting of Oberon NSW. We hope you can join us for a fantastic weekend of music-making!
* Friday 24th November: Free local schools concerts, concert for Columbia nursing home.
* Friday 24th November: Free Twilight Concert at the Oberon Common.
* Saturday 25th and Sunday 26th November: Four ticketed concerts at the Malachi Gilmore Hall.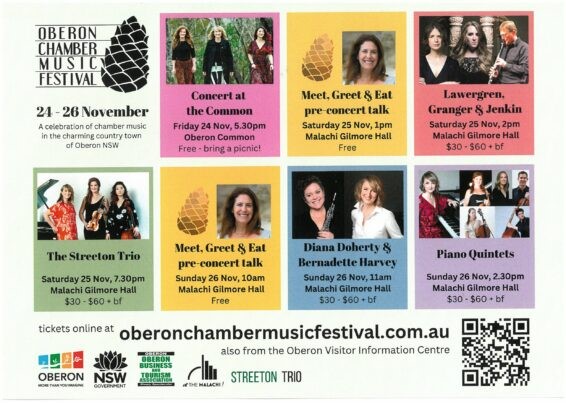 tourism@oberon.nsw.gov.au