Mayfield Garden Autumn Festival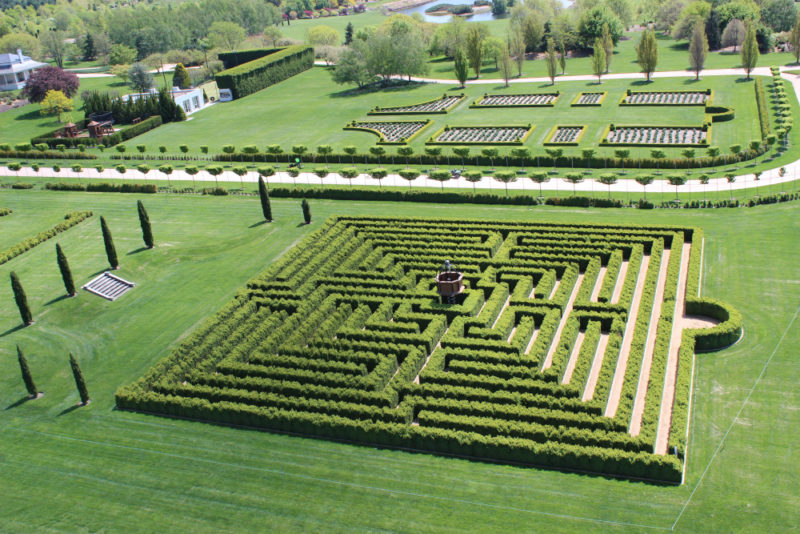 The Mayfield Garden Box Hedge Maze is open during Festival Periods along with all 75 hectares of the Hawkins' Family Garden and Mayfield Garden. The Mayfield Maze is 1.4 km long and one of the largest of its kind in Australia. There are enough bricks in the foundation to build two 3-bedroom houses, and it extends 1.8 m below ground. Under the top layer of bricks, there are besser blocks which are hollow. These help to support the face brick on top which lines the path and shapes the garden beds but won't sink like standard solid bricks. The maze is still growing! The final height of the maze will be 1.8 m tall (Estimated by 2020).
The Mayfield Maze isn't the only unique attraction open for the Autumn Festival.
Mayfield Family Chapel is also open and has a stunning steel and glass wall looking into the Chapel's private garden. The northern aspect from the top of the hill – the highest point at Mayfield with breathtaking views down toward the Watergarden and valley beyond. The doors along the eastern side have been made from recycled hardwood taken from an old shearing shed on the property. Locally quarried blue stone has been cut and carefully put into position on external walls by our skilled stone masons. The family chapel is reserved for private use and is not available for bookings or functions, but is available for guests to see during Autumn and Spring Festival periods.
Also open is the 80-metre Cascade and Temple which was inspired by a key water feature at Chatsworth Estate, UK and the bird aviary which features a design based on the aviary at Waddesdon Manor, also in the UK.