Introduction to Truffle Dog Training Day
Introduction to Truffle Dog Training Day Sunday 30 July 10.30am – 2.30pm. $250 per dog and handler. This is a fun day out for you and your dog to develop your bond by working towards something new.
INCLUDED:
Demonstration Hunt with Fergus, our truffle dog
Train your dog in the truffle training steps and put it into practice with a hunt with your dog in the truffiere under the guidance of experienced truffle dog trainers and handlers
Small group of 6 dogs
A warming rustic lunch with truffle
Opportunity to purchase fresh truffle and product
IS MY DOG SUITABLE:
any breed
basic training (sit,stay,lead) and sits quietly when unattended
stays calm and can pay attention to you in a group
well socialised
loves to learn
WHAT YOU WILL NEED
lead, harness (a collar is fine too)
preferred reward, lots of treats and a ball/toy, tug/toy
crate (not essential)
positive learning attitude!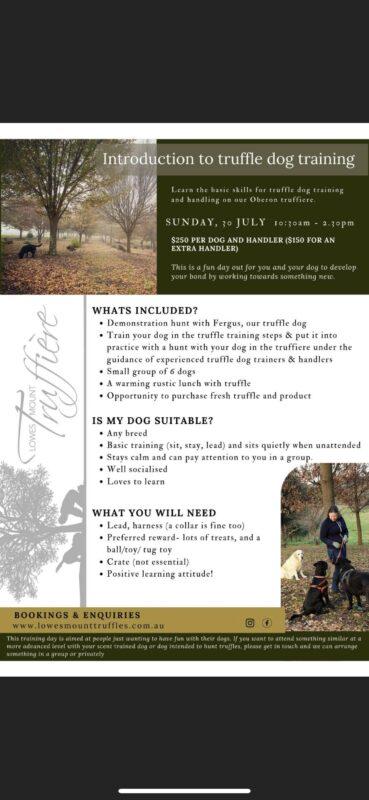 tourism@oberon.nsw.gov.au